How to Create your own website
Hi there, In this guide, I'll be telling you about how to create your website. If you get stuck using this guide, don't hesitate to contact me – I'll be happy to assist you.
Before starting, read this
There are many various web site building platforms and website builders around the market. Like WordPress, Wix, Joomla, Drupal… and lots more.
You can also code your website from scratch, but I'll not recommend it because of mainly two reasons:
It just takes too much time. 
Your final result will be average at its best. 
Let's have a look at the below images.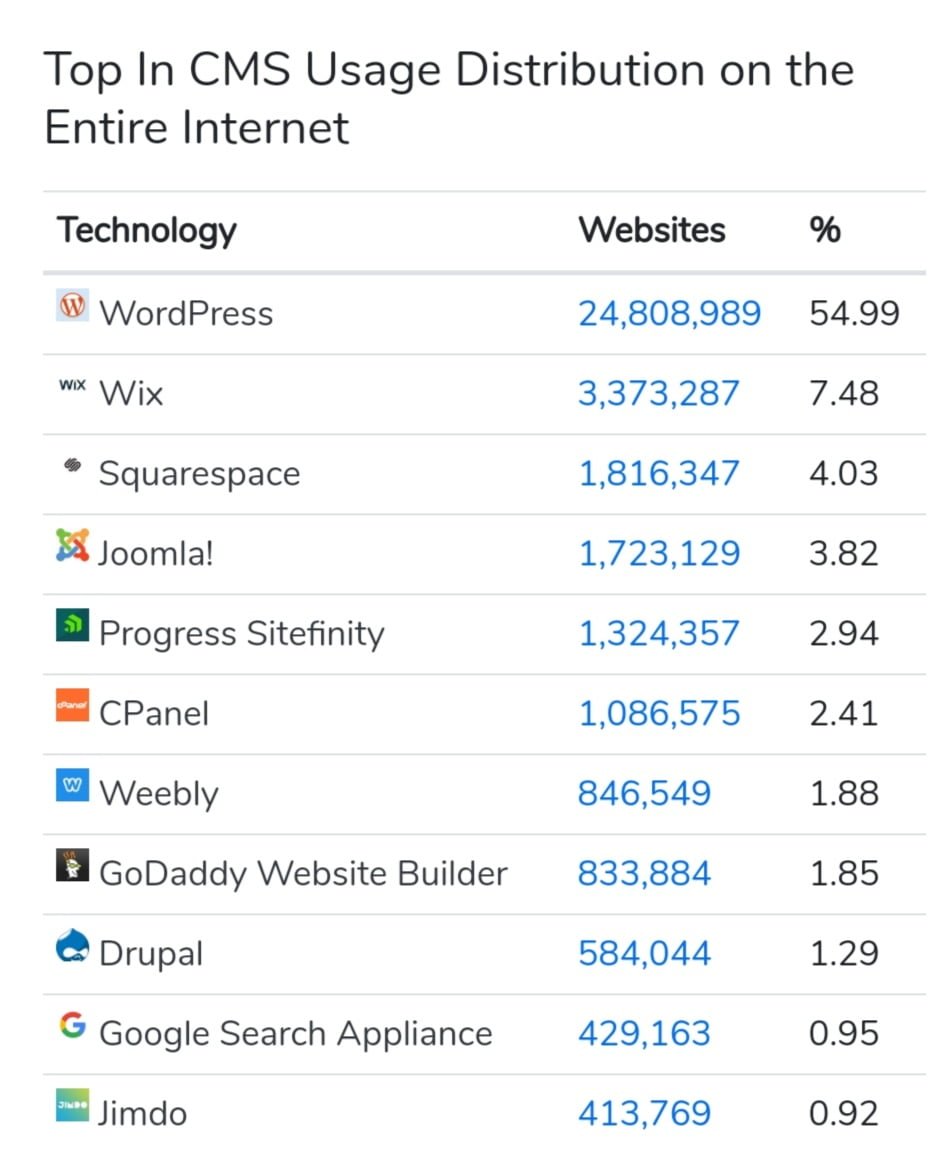 Source:- Builtwith
As you can see in the above graph, the most popular website builders (or content management systems) in 2019 are:
WordPress (free) 55%
Wix (paid) 7%
Joomla (free) 4%
Progress Sitefinity (free) 4%
SquareSpace (paid) 4%
Weebly (paid) 2%
But, Why People prefer WordPress?
WordPress is completely free. Whereas Website builders are expensive and often very limited. They are good for one-page websites, but not more.
Easy to learn. After giving only a little time you can build premium quality websites. Whereas Learning HTML from scratch can take 6+ months, let alone CSS and PHP. Having a basic knowledge of HTML can help you gauge things more quickly, but if you want to create a website within a day or two, learning HTML isn't a viable option.
Flexibility. You can use WordPress for small business websites, blogs, online shops, bigger organizations and so on. It fits for everyone.
WordPress is just so much user-friendlier.
For beginners, I strongly recommend sticking to WordPress.
How to create a WordPress website
Step1
The first thing that you need to do to create a WordPress website is to buy web-hosting and a domain name.
Web-hosting is where your files are stored.
The domain is the name of your site.
Read:- What is web hosting and domain
You can buy hosting from any hosting which you like. But what I prefer and currently using for my site is Jaguar Hoster. Their ADVANCED plan starts from $2.16/month and currently they're also giving free domain for two years. What they give in the ADVANCED plan.
Unlimited Web Space
Unlimited Bandwidth
Unlimited Domain
Unlimited Email Account
Unlimited Subdomain
1Free Domain for 2 year
FREE Site Building Tools
24/7/365 Support
FREE Marketing & SEO Tools
99.9% Service Uptime
They also have one SUPER-AFFORDABLE PLAN at cost of $0.64/month which is best for beginners. I'll recommend beginners to go for this plan. Also, their support is really good– so at least you should check it.
Check out Jaguarhoster.com
Note: I earn a commission if you buy hosting through my referral links. This helps me to keep SuTechs up and running and up-to-date. Thanks for your support.
If you are not sure about your website and just wanna learn how to create a website, then you should go with a free domain and free hosting such as 000webhost, infinity free, freenom(free domain) and many more. But don't rely on them if you are serious about your website. Because at any time they cancel or suspend your free hosting or domain without any notice. And there's also no customer support. So go for free if you just want to learn.
Otherwise, you can use your smartphone or computers to create a local server. Check the below guides.
Step2
To create a website with WordPress (or Joomla and Drupal), use the "one-click installation".
Most of the hosting company has a 1-click-installation option for WordPress.
Steps to be followed:-
Log in to your control panel.
Look for the "WordPress" or "Website" icon. Or in Cpanel, you can go to the Softaculas installer(one-click installer for most of the software) and then click on WordPress and then install it. It might depend upon your hosting provider.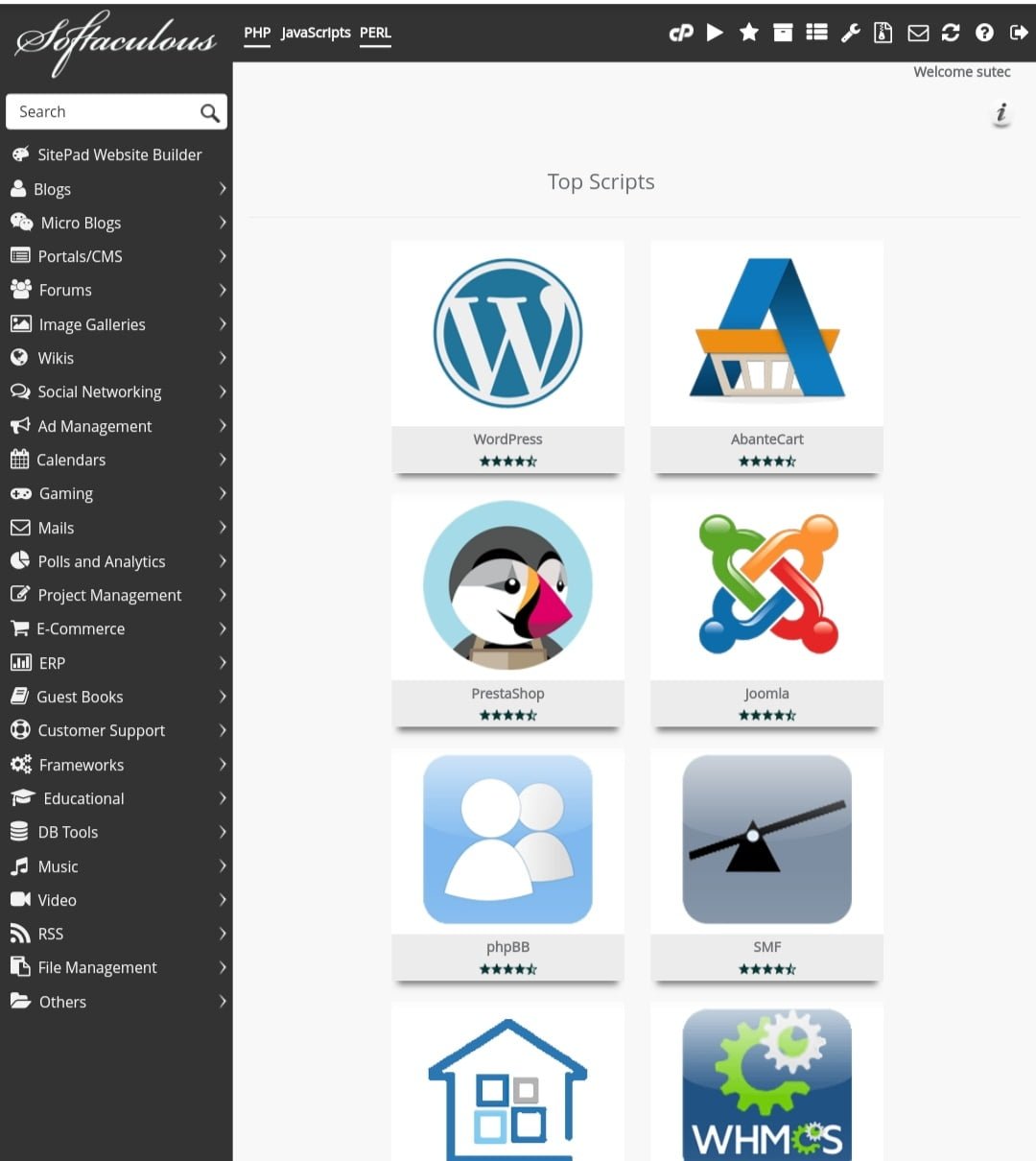 Choose the domain where you want to install WordPress. Click the "Install Now" button and you will get access to your new WordPress website.
If for some reason you don't have the option to install WordPress automatically, follow the below steps. 
Download WordPress from here: https://wordpress.org/download
Login to your Cpanel and open file manager, then upload the downloaded WordPress zip and extract it in the public_html folder.
Note:-all files of wordpress folder must be moved in public_html folder.
That's it you are done. Now open your site, this is the page you should see: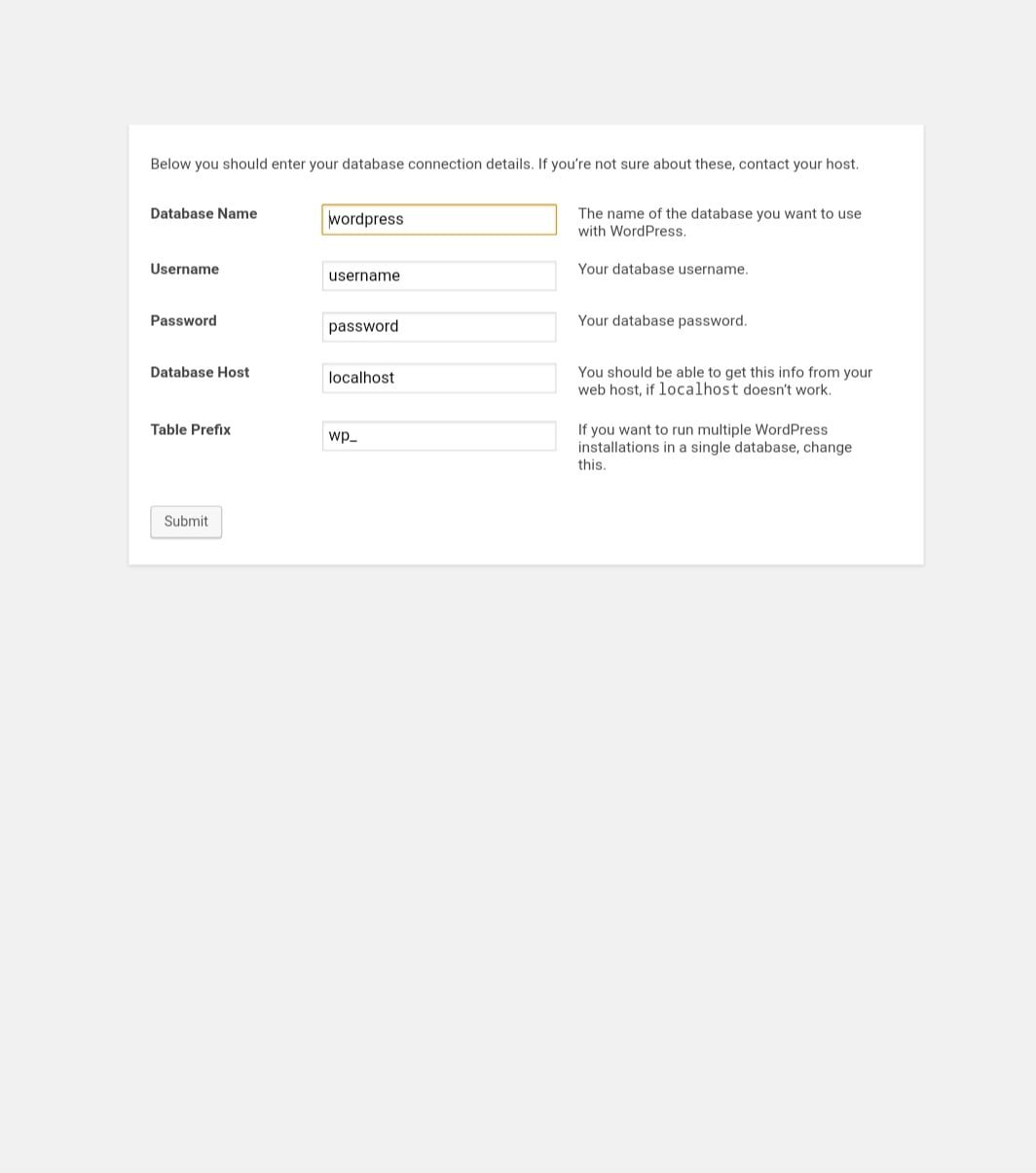 You'll have to fill database details if you are installing WordPress manually. For a one-click WordPress installer, it will automatically create a database. So you'll directly see the below page.
If you don't know your database username, database name or database password then ask your hosting support. Just fill in the forms and you are ready!
Step3
Customize Your WordPress Website
Once you have successfully installed WordPress to your domain, you'll see a very basic yet clean site as shown below.
But you will not like your website to be this much simple. So you can choose a theme (a design template that tells WordPress how your website should look) that suits you.
Below one is an example of a free WordPress theme that you can install:
And Here's the best part of WordPress.
There are 1500+ of awesome, professionally designed themes you can choose from and customize for your site.
Most of the WordPress themes are free to use and highly customizable.
How To Find a Theme of your choice.
1. Log into your WordPress dashboard. If you're not sure how to log in, type in: https://yoursite.com/wp-admin (replace "your site" with your domain).
This is what the WordPress dashboard looks like:
2. Choose your theme.
Once you're on the dashboard, you can choose over 1500 free themes! Just search the sidebar for "Appearance", then click "Themes".
Check out Best of  20+ free WordPress theme
If you want something more professional or elegant than what you find here, you can use premium themes. There are many awesome premium themes but they aren't free.
But before you do that, I suggest you at least try spending some time browsing the free themes. Many of them are really professional and well made. so at least give them a chance.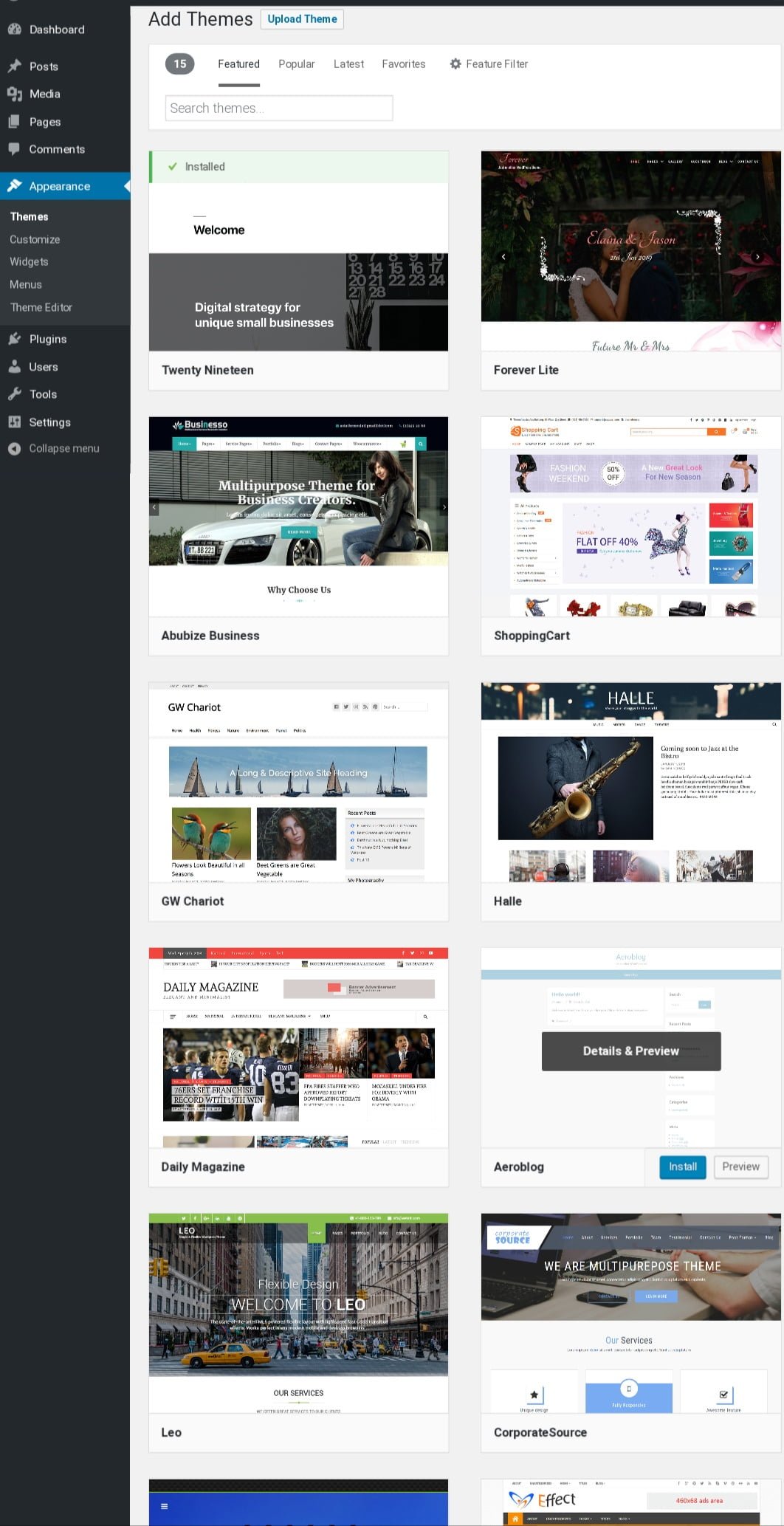 As you can see above, installing a new theme for your website is very easy.
You can search for specific keywords and/or use filters to find themes that suit your style. Finding the perfect theme can take a while, but it's worth it.
You should also look for themes that are "responsive", as this means they will look good on any mobile device.
3. Install your new theme. Once you have found a theme you like, installing it is very simple. Just click on "Install" and then "Activate".
IMPORTANT: Changing themes won't delete your previous posts, pages, and content. You can change themes as often as you want without having to worry about losing what you've created.
That's it you are all done. Now start customizing your website. Add plugins, posts, pages and make your site however you want.
However, if you don't want to use WordPress and if you are interested in coding then create your website however you like then upload it to the public_html folder of your site file manager. Only one important thing you should be knowing that if your website homepage is an HTML file then its name should be index.html or if it is a PHP file then it should be named as index.php. Because when you open your website then by default it loads the index file.
If you are facing any problem just comment down or contact me.